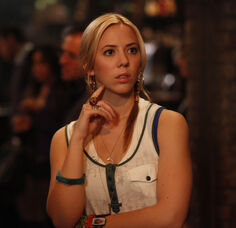 Colleen Gavin is the eldest, rebellious daughter of Tommy and Janet Gavin. She is portrayed by Natalie Distler.
Character Bio
Edit
In the 1st season, Colleen dates Sean Murphy and gets his initials tattooed on her illac crest much to the dismay of her parents. On the way to a concert, Colleen and Sean are involved in a car accident which Tommy and his crew attend. Tommy plots to break Colleen and Sean up by hiding all of the get-well presents that Sean has given Colleen.
Colleen later gets in trouble at school for making out with her new girlfriend after she openly reveals to her parents that she's a lesbian. Surprisingly, Tommy was supportive of Colleen being a lesbian, believing it would keep her away from men who are only interested in sex. After Colleen's younger brother, Connor is killed in a car accident, she finds Jesus, but her finding salvation has more to do with her wanting to fit in & be popular, and not really from a deep need for spirituality.
By the 4th season, Colleen's passion for Jesus has seemed to have faded. Also, in the 4th season premiere, Colleen briefly returns to being a lesbian, but later dates a 26-year-old man who is the lead singer of his band. Tommy tried to break them up, but he relented and even gave Colleen a credit card so she could at least live comfortably. Colleen's boyfriend buys an engagement ring for another girl which thrills Tommy.
Colleen starts dating Black Shawn and planned on waiting until they were married to have sex, but Tommy tells Colleen that she and Black Shawn should just have sex thinking it would reduce the chances of Colleen marrying him. In the 5th season, Colleen moves in with Black Shawn.
In the 6th season, Colleen develops an alcohol addiction just like her father, but Tommy steps in and helps her, even becoming her AA sponsor. Due to Tommy's other commitments, Colleen chooses Teddy to be her sponsor. At the start of the 7th season, Black Shawn proposes to Colleen which she accepts. Colleen celebrates by getting so drunk, she passes out.