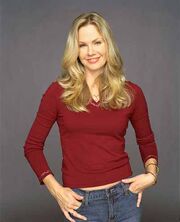 Janet Gavin is the ex-wife of Tommy Gavin. She is portrayed by Andrea Roth.
Character Bio
Edit
Janet had a love-hate marriage with Tommy Gavin that escalated after 9\11, which lead them to eventually separate. At the end of the 1st season, she leaves Tommy and takes the kids with her after Tommy ruins her relationship with a new boyfriend. Janet comes back to Tommy after he kidnaps their kids from her.
With the help of anti-depressants, Janet and Tommy reconciled, but they separated after their son, Connor is killed in a hit & run accident by a drunk driver. Janet becomes involved with Tommy's brother, Johnny, but continues an affair with Tommy. After Johnnys death, her and the children move back in with Tommy. He supports them all financially, but things are strictly platonic between him and Janet.
Between the 3rd and 4th seasons, Janet gives birth to a son, Wyatt, but she's unaware of her son's paternity. When the realization that he is indeed Johnnys son dawns upon the family, Tommy takes matters into his own hands and sells the baby to Sheila Keefe. Janet steals the baby back, moves out of Tommys and gets a job. She sees various people, but eventually begins a sexual relationship with Tommy again. In the 5th season finale, Janet files for divorce, but it appears she's only doing it to get Tommy back. In the 6th season, Janet and Tommy give their relationship another try as long as Tommy gives up drinking which he does. Tommy was also not allowed to have contact with Sheila Keefe again, but Janet relents after Damien is seriously injured in a fire so Tommy could help Sheila care for her crippled son.
In the 6th season premiere, it is revealed that Janet is pregnant again. She attempts to hide the pregnancy from Tommy, with plans of an abortion. Tommy manages to convince her to keep it, under the condition that he be a normal father, and not "some sperm donor called dad". At the end of season 7, Tommy and Janet renew their wedding vows at Colleens wedding to black Shawn, and Janet demands Tommy leave the FDNY. He eventually agrees to. Janet gives birth to her and Tommy's second son shortly after the death of Lou. She insists on the name Shea, in rememberance of (Lou) Kenny Shea.
Tommy Gavin (husband)
Colleen Gavin (daughter)
Katy Gavin (daughter)
Connor Gavin (son)-[deceased]
Wyatt Gavin (son)
Shea Gavin (son)
Michael Gavin (father-in-law)
Martha Gavin (mother-in-law)-[deceased]
Johnny Gavin (brother-in-law)-[deceased]
Maggie Gavin Garrity (sister-in-law)
Timo Gavin (brother-in-law)
Rosemary Gavin (sister-in-law)
Anne Marie Gavin (sister-in-law)
Liam Murphy (brother-in-law)